Dr. H.T. Hubbard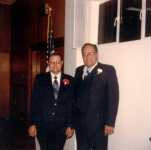 Dr. J.M. Phillips & Dr. D.S. Madden

It is our intent to glorify GOD with the teaching of his inspired and Holy Word. Much of the teaching offered here is presented from the original text and languages.

DiscoverTheWord.com and DiscoverTheWordWithDrJim.com is not affiliated in any way with the Discover The Word Radio broadcast ministry, RBC Ministries, or DiscoverTheWord.org.

Audio from Dr. Phillips classes is being presented as mp3 audio files, and is still free to listen to or download. You have several options in how you can listen to the class teaching of Dr. Phillips and others. These classes are also available in complete sets on cassette tape, or on audio CDs, at minimal cost. Click on the link below to check it all out.


Listen to Dr. Jim on sermonaudio.com




Listen to Bible study from the original Greek and Hebrew text. Listen to many great sermons. Many online Bibles in several different languages. Online audio Bible. Many study tools and resources. All Free!


Please send your charitable contributions and correspondence to:

Dr. James M. Phillips
P.O. Box 121
Dyer, NV 89010

http://www.discoverthewordwithdrjim.com

These are the identifying marks of true New Testament Churches down through the ages of darkness and confusion

Additional Online Bible Study Resources

This page provides a list of several online Bible study resources and tools..

Listen in to the first two tracks from Jimmy Phillips new Country Gospel CD Pray Every Day. Jimmy is the brother of Dr. Phillips has been part of the original Bakersfield sound. Buy now at SermonAudio.com to hear the entire CD of Country Gospel.

John Gage is the Minister of instrumental Music for Valley Baptist Church in Bakersfield, California. He has allowed us to place some audio tracks of his beautiful trumpet playing on this site. So, treat your ears to some wonderful music while you are studying our Lord's Word.




BibleDatabase is one of the largest resources of FREE Bibles available anywhere. Full Featured FREE Bible Software with more than 70 Bibles in over 35 languages. Multi Bible viewer. Bible Dictionaries, Commentaries, Biblical Names, Personal Prayer Diary, Biblical Map viewer, Rich Text Word Processor and more..

Sharing ones testimony is a powerful way to witness to others. If you have a testimony that you would like to share, you may e-mail it to us and share it here.
We now have PAYPAL, VISA, DISCOVER CARD, MASTERCARD for your convenience. If you would like to make a donation to help support this ministry please use PAYPAL or your credit card. No donation is too small. Your information is secure and we will not share your information with any other entity. We will not contact you for further donations. Thank you so much for your help.
Your donation, no matter how small, will help us keep God's word going into households all over the world. It cost nothing to those who are downloading our free materials but it costs us daily and each month to keep these sites up and running. Please take part in making a donation to help us reach the world with God's word. Thank you.

Dr. James M. Phillips is recognized worldwide as a scholar and leading authority on Biblical Languages, Church History, and Biblical Doctrines.